Written by Danielle | 24th Mar 2017 | Accommodation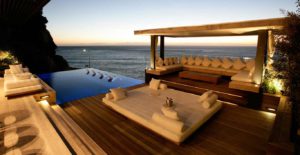 Your holiday accommodation should give you more than just the essentials. Each villa on this list has a variety of deluxe qualities to satisfy your every whim.
From Jacuzzis and rim-flow pools to state-of-the-art appliances, these 6 self-catering holiday villas each have their own highlights that distinguish them from the rest.
Camps Bay Vacation Rentals for Discerning Tourists
These superior views, finishes and lifestyle are part and parcel of Capsol's holiday accommodation, where luxury is the order of the day.
Discerning tourists can't get enough of these prestigious rentals. Property jewels like these are found in the wealthy neighbourhoods of Camps Bay. Vacation rentals in this area come with all the modern trimmings, and you'll find some fabulous surprises waiting for you.
Live It Up in Lavish Holiday Accommodation
Camps Bay Beach has been voted the best beach in South Africa, and the suburb's holiday villas have the star status that match this honour.
If you're asking "Where can I rent the best holiday accommodation in Camps Bay?" Capsol has 6 answers for you!
MsangasangaSleeps 10 in Camps Bay | From R 8,000
View Property
Enjoy a never-ending summer in this ritzy self-catering villa
If you're looking for a ritzy self-catering holiday, accommodation at Msangasanga will not disappoint you or your loved ones.
This is a double-storey building with a kitchen, dining area, living room and patio on both levels. The interior lets in plenty of natural sunlight, creating a summery atmosphere all year round.
Msangasanga has 5 bedrooms and sleeps 10. The sprawling lawn, pool and terraced areas give you a comfortable space to socialize in larger groups.

This lush beach bungalow is a stroll away from Camps Bay beach
This beach bungalow sleeps 8 guests looking for a restful holiday accommodation option. Soak in the pool or Jacuzzi with a chilled drink, or stroll down to the sand of Camps Bay for an impromptu picnic.
Poseidon is the work of John Jacob Interiors, a leading Cape Town firm specialising in bespoke interior creations. That means you can expect masterful attention to detail.
Poseidon is designed for informal open-plan living, with a layout that shows off the Camps Bay sunsets in a manner that few get to experience in a lifetime.

The artistically designed Tidalwave villa is a joy for style-conscious guests
The Tidalwave apartment was conceived by top architects and interior designers. It's sure to entice any guest with an artistic eye for modern design. The living spaces feature furnishings by Philippe Starck and Pierre Cronje, against a backdrop of Greg Wright's signature architecture.
Tidalwave was designed to give you a sophisticated self-catering holiday accommodation experience. Think high-tech amenities and kitchen appliances from brands like Miele.
Life at Tidalwave is a pleasure in all seasons. Throw open the floor-to-ceiling doors and let in the sea air, pop into the rim flow plunge pool, or switch on the under floor heating for a snug home movie night while the Cape wind blows outside.
Tidalwave has 24 hour security, housekeeping and elevator access directly into the apartment. It's finishing touches that put this villa in a league of its own.
Falcon ViewsSleeps 6 in Camps Bay | From R 6,000
View Property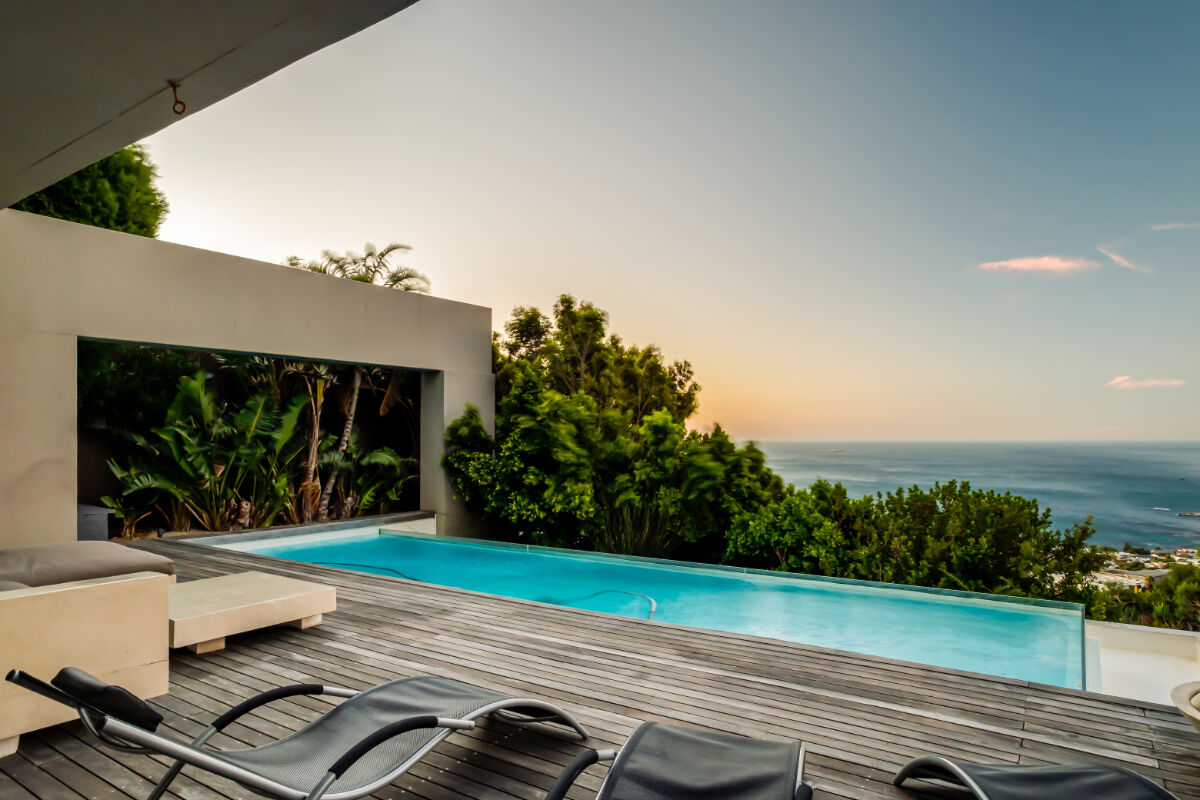 Look out over the ocean from your luxurious mountain perch
Falcon Views is a holiday rental designed for travellers with impeccable taste. The minimalist décor complements the villa's setting and creates an undisturbed sense of space, allowing you to connect with the outdoors.
You'll get a bird's-eye look at Cape Town's sublime scenery, from your perch on the hills of Camps Bay. All bedrooms are sea-facing, so you can start and end each day with a view of the ocean.
Entertain visitors in the formal lounge and dining room, or retreat to the TV room for some laid-back lounging. This high-end holiday accommodation also features an infinity pool that looks out over the bay.
A note for families: Falcon Views has an elegant floating staircase, which may not be suitable for guests with young children.

This holiday home places 8 lucky guests in the lap of luxury
Medburn Luxury is an adaptable holiday home you can mould to suit your style. Savour long, lazy mornings in front of the TV in the pyjama lounge, or host a glamorous cocktail party on the entertainment deck.
The airy, contemporary design of Medburn includes skylights that let in the sun, and patios where you can enjoy sun downers or stargazing. Take in the view from the edge of the rim flow pool and create evening memories with that special someone in one of the most romantic places on earth.
This serviced holiday accommodation sleeps 8 guests, and includes staff quarters.
Strathmore HouseSleeps 12 in Camps Bay | From R 8,000
View Property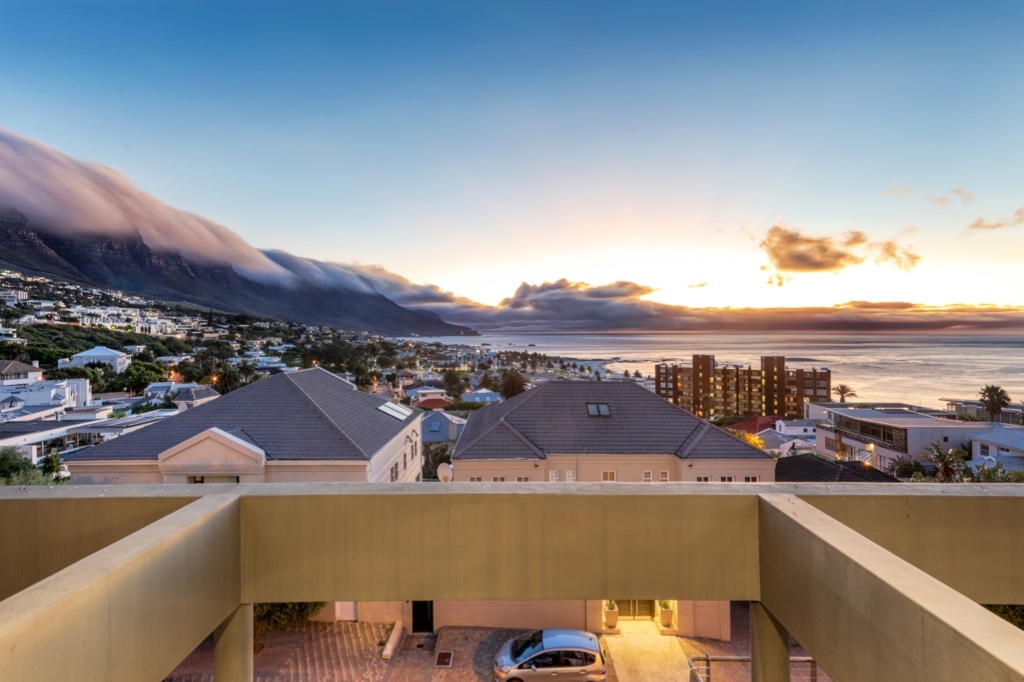 Make yourself at home in this multi-level 12-person villa
Strathmore Place is a multi-level villa with 6 bedrooms and sweeping views of the ocean.
The suites at Strathmore balance hotel-grade style with the comforts of home. The building provides holiday accommodation for 12 guests, and has a separate entrance flatlet for extra privacy.
The villa's upstairs bedrooms lead onto the Jacuzzi deck, where you can immerse yourself in bubbles. The wall-to-wall glass doors mean you can make the most of the view.
Downstairs you'll find a sunny terrace, barbecue area and an ample swimming pool, which has heating from October to April.
These Camps Bay Vacation Rentals Have the "It Factor"
With all their modern conveniences and fine finishes, these holiday villas will become your home away from home. If ultimate luxury is your vacation goal, this is where it will be realised.
Have you booked your holiday accommodation yet? If not, it's time to browse Capsol's selection of Camps Bay villas, for a rental with charming details you'll never forget.