De Waterkant Luxury Accommodation is among Cape Town's most fashionable and will help you fulfil your deepest holiday desires. Welcome to the unmatched urban culture in this bustling hub.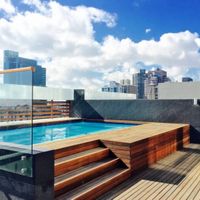 This superbly designed apartment is situated in de Waterkant, close to the center of Cape Town. The apartment offers two bedrooms, both with en-suite bathrooms, both bathrooms offer large walk-in showers. Upon entering apartment, you are greeted with a stunning 180° view of Cape Town's…
From R 3,000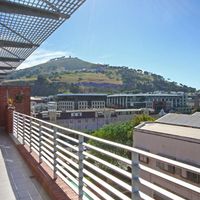 903 Metropolis is a trendy and modern fully furnished, self-catering 2 bedroom apartment. The apartment is set in the heart of vibey De Waterkant. Its close to all Cape Town's major attractions and offers the best in city living. It is set against the backdrop of Signal Hill,…
From R 3,000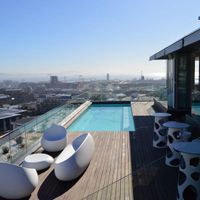 MIRAGE 1108, is a stunning 2 bedroom, 2 bathroom apartment situated in the trendy De Waterkant area. The apartment is all set out on one level, offering ease of access and a convenient, minimalist lock up and go environment.The secure Mirage development is a leading location to…
From R 3,000
For bookings & more De Waterkant properties click here
True adventurers at heart will be attracted to the accommodation De Waterkant offers, due to its eclectic ambiance, proximity to nearby business districts and metropolitan foodie culture. Not to mention its five minutes away from some of the laziest beach days you'll ever have.
Whether you're a South African or an overseas visitor, De Waterkant accommodation suits either business or holiday travel extremely well. Just a step out of your apartment or villa, and you'll have instant access to the city, to key tourism spots and to the popular beachside culture of Camps Bay and Clifton.
Where is De Waterkant?
De Waterkant is not technically a suburb, because it exists inside of Green Point – but anyone who has visited the area will tell you how distinct it is. Situated alongside Cape Town's busy CBD, this colourful neighbourhood has many upper class residents and a bustling LGBTQ community. De Waterkant accommodation is highly desirable for young travellers looking for comfort and style.
Most of the accommodation De Waterkant offers connects visitors with surrounding areas like Signal Hill, the V&A Waterfront and the more affluent areas of Camps Bay, Clifton and Bantry Bay. When you stay in this area you have all the conveniences of the city within your reach. That means a vibrant urban lifestyle in one of the most eclectic cities in the world!
Why Choose To Stay in De Waterkant?
De Waterkant apartments, holiday homes and self-catering villas are some of the most up-to-date properties in town, and are known for their unique architecture and European style. There are many reasons to choose this area over others:
LGBTQ Community: This neighbourhood is a popular gay and lesbian district, and one of the trendiest places to holiday in Cape Town.
Immediate Urban Access: When you stay here you get to sleep and relax in the CBD, with less noise and stylish restaurant and café culture across the road from you.
Guests looking for De Waterkant accommodation will appreciate its affordability and comfort, despite the fact that it's in the heart of town.
Types of Premium Accommodation in De Waterkant
Because this neighbourhood is mainly made up of homes and apartments, you can find a distinct holiday property to rent that is rare.
De Waterkant villas: Enjoy your vacation in a spacious villa along a main street, where you can actively take part in daily city life.
Go ahead and search our incredible luxury De Waterkant accommodation, and you'll find a holiday house or apartment that will make your vacation one to remember.