V&A Waterfront luxury accommodation including apartments, penthouses and homes can be found on the shores of the Atlantic Ocean, around Table Bay Harbour. A holiday here is an experience of a lifetime.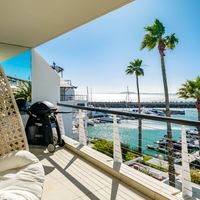 This two bedroom apartment is located in the exclusive Waterclub complex and the north facing balcony overlooks the private yacht marina of Table Bay. Guests of the Waterclub enjoy access to a communal swimming pool.The bedroom has direct access to the balcony and overlooks the communal swimming pool.…
From R 6,000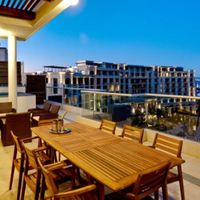 Lawhill Penthouse is elegant and trendy and situated within the Waterfront Marina, with fantastic views over the canal, yacht basin and Table Mountain. The spacious Penthouse is open-plan and has 3-bedrooms with an interior that exudes contemporary style. There is a fully equipped kitchen, open-plan lounge and a…
From R 18,000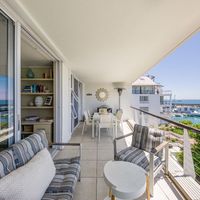 Situated in the exclusive Water Club complex in Granger Bay with beautiful marina and ocean views, the elegant Majestic Marina is ideal for both corporate and leisure travellers looking for luxury, style and convenience. The apartment is airy with free-flowing, open-plan living spaces. Contemporary-chic armchairs and a…
From R 6,000
For bookings & more Waterfront accommodation click here
The Victoria and Alfred Waterfront was designed for travellers and holidaymakers to enjoy. A blend of Colonial style with modern and cultural influences mixed in, you will fall in love with this colourful accommodation in Cape Town.
The V&A Waterfront stretches over 123 hectares of harbour land, like a mini city within a city and has a variety of designer shops, seafront activities and opportunities for the traveller. Per square metre the V&A has some of the most luxurious and expensive real estate in all of Africa!
Most prominently, you will find the area steeped in rich history leading back to 1860, when Prince Alfred first visited the Cape Marina. If you're looking for V& A Waterfront accommodation or self-catering apartments for your next trip to Cape Town, you'll find them here.
Your Holiday at The V&A Waterfront
The Waterfront wraps neatly around Table Bay Marina, the main harbour of Cape Town. Because of this, it has become a lively tourism area and hosts some of the most popular shops, restaurants and activities in the Mother City.
V&A Waterfront luxury accommodation apartments, penthouses and homes are dotted among these commercial gems and add to the areas distinct multicultural character.
V&A Waterfront luxury accommodation is among the most inclusive and unique in the city. Instead of staying in a residential area like Camps Bay, many tourists prefer to holiday in a more convenient area like the Waterfront, and for good reason.
Here, the apartments are close enough to the shopping centres – that you are invited into the culture of Cape Town after just a short walk, but far enough away that you can retreat to peaceful privacy after a long days' worth of adventure.
The V&A is home to the cities high-end shopping district, which means designer stores like Calvin Klein, Emporio Armani, Gucci, Louis Vuitton, Michael Kors and Versace are common in the area, which attracts starlets and moguls from all corners of the world.
It's not unusual to spot the rich and famous on one of their luxury yachts, which are moored at the harbour and can be seen from the V&A Marina.
V&A Waterfront accommodation – specifically the apartments, are regularly rented out to travellers that prefer to stay in popular tourist hubs that offer both private luxury and easily-accessible excitement.
Live music, interesting festivals, some of the finest restaurants in the city and boat rides around the harbour are just a few reasons to holiday in this area. It caters for such a wide variety of tastes, styles and interests – you'll never be bored!
Choosing the Best Rental Property
You have the opportunity to choose the best possible rental property for your upcoming holiday. That means you need to consider your needs so that they are all covered and you end up having a happy experience on your stay away from home.
V&A Waterfront accommodation, apartments, penthouses and homes come in different shapes and sizes. This is the first thing you need to consider. How many of you are going to stay in the rental? Will you all be comfortable there? Space is a key element.
Price is another concern because most tourists have a holiday budget. When searching for the right property it helps to use the price range filters so that you can target the places that will keep you on point for the duration of your vacation.
Location and property type matter! It's true that Waterfront accommodation – apartments, penthouses and other styles of condo rental here are exclusive, but will they suit your needs?
A penthouse may have specific views that you fall in love with, or you might find that the only available apartment on offer in this high-demand area is smaller than you would like.
The best rental property for you is going to match up with your unique requirements. The good news is that we are here to help! Our consultants will help you compile a list of these needs and then we'll find you the V&A property that will light up your holiday experience.
We will help you find the Cape Town accommodation that you deserve. Our recommendations are personalized, supportive and brimming with experience. We'll be your luxury matchmakers!
Apartments and Penthouses: What You Need to Know
There are some things that you should know about Waterfront accommodation, apartments, penthouses and similar properties in this area.
Apartments in the Waterfront are usually decorated by internationally renowned designers to give you a taste of local culture and a uniquely modern ambiance.
Penthouses here are considered extremely prestigious and are equipped with private decks, large balconies, lifts and rooftop pools. Because of where these are situated you may have to book in advance, or your ideal apartment will be taken.
Accommodation in Cape Town, Waterfront comes in 1, 2 and 3 bedrooms. You can rent these self-catering units for short-term or for longer stays.
Best of all, because this is one of the last remaining Victorian harbours in existence, your photos from your luxury vacation rental will be spectacular keepsakes.
Tourists That Would Love a Waterfront Stay
Waterfront accommodation, apartments, penthouses and studios are the popular choice for many different types of traveller. You would enjoy staying here if:
You're down on business: Instead of staying in the CBD, choose the V&A Waterfront as a more colourful, convenient option. Host meetings at one of the many exciting gourmet restaurants or coffee shops, moments away from your rental.
Small families: Kids are constantly bored on holiday, which means that staying in a lively area with lots of family activities is planning ahead. Kids will love the huge variety of things they can do at the Waterfront, including mini-golf, scratch-patch, the Aquarium and going to the movies.
Couples on a romantic holiday: V&A Waterfront accommodation, apartments, penthouses and studios were practically made for romance. Sunsets, wine on the balcony, ocean views and a vibrant harbour culture just outside your doors, ignites those passionate vibes.
Visiting friends: You're down from overseas and have a limited amount of time to see all of your friends during your stay. It can get tedious striking out and meeting people all over the place. Instead, host a get-together at your vacation rental.
Whatever your holiday needs, choosing to stay at the V&A Waterfront will be a decision you cherish for years to come. There is so much to see and do, you'll never have a dull moment.
Plan ahead and make sure that your chosen property matches your expectations by speaking to one of our friendly consultants about your upcoming requirements.
Find V&A Waterfront luxury accommodation in apartments, penthouses and studios of your dreams when you search through our modern urban listings. An exceptional holiday is on your horizon.