Camps Bay apartments are a step above the rest when it comes to endless luxury and comfort. Find out what you need to know about renting an apartment in this first-rate neighbourhood.
For bookings & more Camps Bay properties click here
Luxury apartments along the Atlantic Seaboard are known for breath-taking views, uncanny elegance and unmatched security. These Camps Bay holiday apartments are dotted all over this affluent area, where the rich and famous prefer to spend their time all year round.
If you have been trying to decide on the right location and residence for your Cape Town holiday, staying in one of these exquisite Camps Bay apartments is a great choice. Spend some time browsing through our large selection of urban-chic and beachside apartments to find the one that is going to make your next vacation the best you've ever had.
The Seaside Culture of This Amazing Area
Along South Africa's platinum mile, you'll find a seaside culture unlike any you've experienced before. Camps Bay apartments surround the promenade where you can spend the day shopping, sipping gourmet coffee, eating fine cuisine and bathing in the sun on the golden shoreline.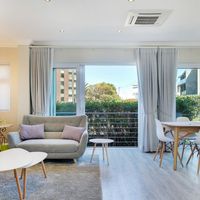 Immaculate 2 bedroom apartment in Camps Bay, situated a mere 100m from the beach and Camps Bay strip with its host of restaurants, shops, bars and spasBeautifully decorated with stylish interior welcomes you from the minute you set foot inside.Open plan loving gives it an airy feel with…
From R 4,000
The apartments Camps Bay offers its guests are world-class and are the perfect locations to return to after a long, lazy day in the sun.
Why Stay in an Apartment in Camps Bay?
Smart, seasoned travellers know that renting Camps Bay apartments during their stay is much better than staying in Hotels on the strip. When you're in an apartment, you are that much closer to local life and you have the space to stretch out and enjoy it.
That means your luxury Camps Bay holiday apartments are ready if you want friends or family to come and visit you, or if you want to stay together in one location as a group. The privacy and security at these apartments make them a reliable choice for Cape Town holidaymakers.
Who Would Choose To Stay in a Camps Bay Apartment?
Apartments in Camps Bay are great for a wide variety of visitors to the affluent area. The people most likely to enjoy an apartment are:
Guests that want simple space: Hotel rooms are expensive and small, but apartments are larger and give you a better lifestyle when you rent them. Stretch out and relax!
Guests that want security and accessibility: Apartments in this area are safe, and you can lock your valuables away with ease. At the same time, you can have people over, whether they are business colleagues, family or friends – in a casual, private and safe environment.
Adventurers and explorers: An apartment dials you into the Camps Bay area, which you can quickly and easily explore from the moment you arrive. The time you spend there will recharge you for all of that adventuring you plan on doing during your holiday.
Browse our incredible collection of Camps Bay apartments and find the one that will make your holiday extra special. Visit friends, have family over and settle in as a resident for your easy holiday experience!