Written by Capsol Admin | 18th Mar 2018 | Accommodation, Attractions, News, Things To Do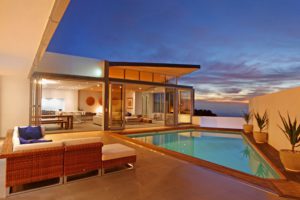 Staying in a holiday rental rather than a hotel is becoming increasingly popular choice around the world – and Cape Town boasts an incredible selection of luxury villas all around the city.
1. A villa is more spacious
One thing our properties have in common is that none of them are teeny – in fact, most have expansive communal areas both inside and out, giving you plenty of space to spread out and relax no matter what your group size. We have plenty of properties sleeping 12 people or more, such as White Sails where all six bedrooms have their own patios.
Smaller groups will be in no danger of being too cramped, though – check out Belair Cottage in Constantia, which has a large garden and a swimming pool despite only sleeping two people – you can invite friends around, too, as the dining area caters for six people.
2. You'll get more of a flavour of local life
When you stay in a hotel, it's quite easy to spend most of your vacation surrounded by other tourists – at breakfast in the morning, in restaurants for other meals, and on day trips to see the main sights. When you stay in a villa you'll be shopping at the local supermarkets and delis and most likely easing into a similar lifestyle to the locals around you, especially if you choose one of our properties near the beach – such as Rim Water, at the ocean's edge on Llandudno Beach.
3. It's the family-friendly option
Young kids need to run around, and after about five minutes your hotel room will start to feel like a claustrophobic box, no matter how big it is. You'll also be paranoid that you're disturbing the people next door – especially if there's a crying baby involved. When you do venture out of your room, there's a very high chance that not all your fellow hotel guests will be amused by the sight of your kid jumping on the furniture or running like a madman through the breakfast buffet.
Choose a villa with a garden and a swimming pool, and the kids can run free – some of our properties have wicked play areas too, such as Lombardie House in Constantia, which has a slide, treehouse, slide, swings and zip-line. Speak to your advisers about properties with fenced in pools if you have younger kids. Another bonus: you won't be trapped in your room after the kids have gone to bed at night; you can have a few drinks knowing they're safely tucked in bed right near you.
4. It's more sociable
Invite some friends or family and book a villa together – you'll get to share activities as well as priceless holiday memories, and can even trade off babysitting if you have kids. Our villas usually have more than one guest lounge or outside deck, so you won't be on top of each other, as well as en-suite bathrooms so you'll have all the privacy you need. Some of our villas are so well equipped that you won't even need to leave the property, such as Fulham Mansion in Camps Bay, which has its own gym, cinema and swimming pool, plus a bar area with pool table and jukebox that opens out onto a wooden deck next to a mountain stream.
5. Set your own schedule
Some people like to sleep in on holiday, others like to be up at the first lark to make the most of the day. Either scenario doesn't usually fit in with hotel breakfast times – and there's nothing more dispiriting than arriving at the buffet half an hour before closing and finding that all the good stuff's gone. When you self-cater, you can eat when and where you like, including the option of taking a picnic to the beach or Kirstenbosch botanical gardens. It's healthier, too – endless restaurant meals can be hard on the waistline, and it can be hard to get everyone to agree on the same place to eat. If you don't want the hassle of cooking, choose a villa such as La Rive, in the Cape Winelands, which comes with its own live-in chef and butler.