Corporate apartments at the Cape Town International Convention Centre put you in the centre of the city's largest events. Business is easy when you're in the right place at the right time.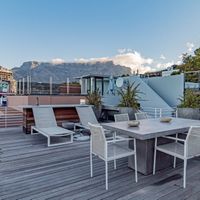 Lovely 3 bedroom accommodation, tastefully decorated which is calm and inviting.Located in Green Point area of Cape Town, a mere stone's throw away from the central CBD, making it the perfectly located accommodation for business travelers or those wanting to be close to the hustle and bustle of…
From R 6,000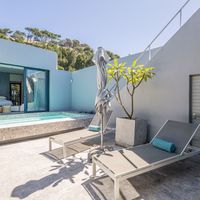 If you're looking to relax in quiet, luxurious surroundings, but be a short stroll to the hustle and bustle of trendy De Waterkant, then Loader Penthouse is for you.Loader Penthouse is a large one-bedroom penthouse, situated above the two-bedroom apartment, Loader Penthouse has a private pool and large…
From R 6,000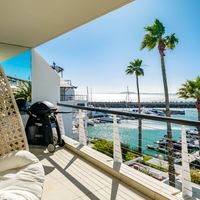 This two bedroom apartment is located in the exclusive Waterclub complex and the north facing balcony overlooks the private yacht marina of Table Bay. Guests of the Waterclub enjoy access to a communal swimming pool.The bedroom has direct access to the balcony and overlooks the communal swimming pool.…
From R 6,000
For bookings & more CTICC apartments click here
When the Mother City hosts an internationally renowned corporate event for your industry at the convention centre, it attracts business people from all over the world. Attending these events is exciting, and can offer you and your company a wide range of new business opportunities. The last thing you want to deal with is accommodation in an inconvenient location.
When you decide to stay in executive and corporate apartments close to the CTICC, you give yourself the chance to experience real luxury on your business trip. Instead of rushing around in a constant state of lateness, you can stay at the event longer, meet more people and succeed at a faster rate. Find your most suitable apartment by browsing our listings below.
Where is The Cape Town International Convention Centre?
The CTICC is an enormous convention centre in Cape Town that spans across 15 acres of prime land, right at the front of the city's central business district. The official address is 1 Lower Long Street, at the Convention Square. Many corporate apartments surround the square and specifically cater to people that have come into town to attend a conference or event.
It's been called the innovation hub of the Cape Town CBD, is close to the V&A Waterfront and Table Bay Harbour, and can be reached by taking a left at the end of Nelson Mandela Boulevard. The CTICC provides meeting, exhibition and convention services for organizations that need large show areas to help people network and inspire future business.
While the area has many local hotels, guests often prefer to stay in serviced corporate apartments, because they are more affordable for business teams that are flying in for events. Never underestimate the power of staying close to the CTICC for critical business events. Wake up fully rested, and excited to attend your next show at this amazing centre of business.
What Happens at The CTICC?
The Convention Centre was recently named the Best Large Conference Venue in South Africa, during the 2016 Business Traveller Awards. With over 121,000 square feet of conference space, this venue is able to accommodate multiple events and conferences at once. It has a grand ballroom, on premises catering by executive staff and can seat over 2000 people.
The Cape Town Convention Centre has played host to many important business events over the years, including the CFO World Congress, The African Mining Indaba, The Open Education Global Conference and FanCon, Cape Town's own version of ComicCon. Corporate apartments have been popular because of the centre since it opened in 2003.
There are currently plans to extend the venue in place by an additional 10000 meters of floor space, so that even more events can run simultaneously in this important business hub.
Tradeshows
Global conferences
International summits
Banquets, lunches, dinners and brunches
Exhibitions and film shoots
Brand presentations
Hundreds of events are hosted every year, which means that fully-serviced corporate apartments are regularly in-demand, due to the sheer amount of people coming and going from the centre.
Why Stay in a Serviced Corporate Apartment?
There are many relevant reasons why you or your brand might want to consider renting corporate apartments for your people instead of multiple hotel suites and rooms.
More affordable: There is no denying it, renting a luxury apartment or 3 is far more financially manageable for your company than renting out hotel rooms. You save money on room rentals and catering – so that you can spend more at the convention!
Keep your team together: Many apartments in the Cape Town CBD are large enough to share between multiple people. Keep your team together so that you can learn together on your next conference trip.
Worry free: Guests choose to stay in holiday apartments due to the convenience, on-going luxury and effortless lifestyle that serviced spots offer in the city. Never worry about security at night or proximity to the areas that you are dying to visit in town.
These corporate apartments are excellent for short term or long term stays in Cape Town, which can be handy if an event runs all week, or creates business opportunities that require you to stick around once it has ended. Enjoy the designer décor, regular cleaning services, access to fitness and laundry facilities and other essential lifestyle must-haves while you are away from home.
The Business Benefits of a Serviced Apartment
A classic hotel suite was once the norm for companies sending their employees to special events in other cities. But over the last 10 years a shift has happened, and now corporate apartments are the preferred choice. Having a home away from home has many business advantages.
For one, if valuable connections are made at the conference centre you can arrange to meet new connections at your apartments, where private talks can take place. At the same time, if your team is presenting at the event, an apartment is the ideal space to practice, brainstorm and be creative. They can be as messy as they like, and the daily cleaners will take care of it.
These fully-furnished executive apartments are commercially orientated, providing your employees with all the creature comforts they will need, including fast, reliable internet, desks and workspaces where teams can collaborate and exchange ideas and stories. Having a space where business can be taken seriously is much better for your bottom line than a hotel room with TV and room service.
Renting a self-catering apartment in the city close to the CTICC is a smart move if you want to keep your teams focused on what matters. To learn, make new connections and forge business deals.
With these incredible corporate apartments you can enjoy the luxury of a hotel room without any of the limitations that make it inconvenient for business dealings.