Written by Clayton | 16th Nov 2016 | Accommodation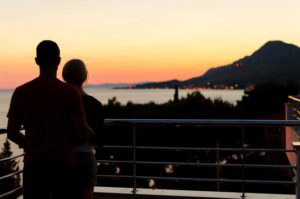 These self catering villas will set the scene for a blissful chapter in your love story. Book an idyllic getaway for you and your partner in the heart of Cape Town, and sparks will fly.
The city is home to a variety of upscale self-catering accommodation spots for couples looking to enjoy the Cape's vibrant culture and unparalleled views in style. Whatever you desire from your romantic retreat, you'll find it in one of these luxurious rentals.
Love is in The Air in Cape Town's Luxury Villas
If you're celebrating a special occasion or want some time together to reconnect, Cape Town's most intimate self catering villas will leave both of you feeling supremely pampered!
Cape Town Magazine is bursting with ideas for local romantic activities, from sunset cruises to hot air balloon rides. Staying in one of these luxury villas you'll be free to explore this long list of enticing experiences together.
6 Self Catering Villas For Every Type Of Couple
Are you a fun-loving outdoorsy pair, or a laid-back duo looking for some downtime? Whatever your preference, Capsol's holiday rental specialists have a self-catering accommodation option that will perfectly suit your style as a couple.
For The Glamorous Couple:
For the image-conscious pair wondering: "Where can I find self-catering villas in Cape Town?" Casa in Camps Bay will make your hearts beat a little faster.
Casa is among the most premium self catering villas found just metres from Camps Bay beach. This is for the couple who knows the Cape Town experience is all about location, location, location!
The property gives you a choice between 9 spacious one bedroom apartments, all with sea views and poolside access. You'll be close to the action of the promenade, while still enjoying your privacy.
Your stay at Casa will be wonderful as you spend the day tanning on the beach, sip sundowners on the balcony, and take in a show at Theatre on the Bay – a flawless date from start to finish!
For The Trendy Duo:
Views Penthouse for a slice of contemporary high-rise luxury. This is one of Camps Bay's hottest self catering villas, with a special claim to fame.
The penthouse is owned by a former Springbok rugby player, and the stairs leading to your suite are adorned with tributes to South African rugby. How many self catering villas can claim to belong to the country's celebrated sports stars? Very few!
Views Penthouse 1Sleeps 4 in Camps Bay | From R 8,000
View Property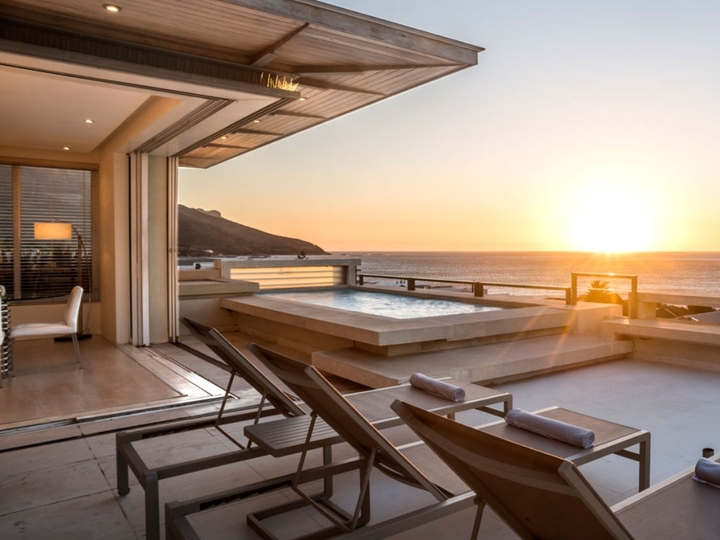 Situated above the famous Victoria Road, Views Penthouse has panoramic vistas of Camps Bay. These will make a dramatic backdrop for you to snap that perfect "couple's selfie".
Trendy young honeymooners and holidaymakers will love this modern penthouse vacation home that looks out over Cape Town from the bubbling Jacuzzi on the balcony.
For The Socialites:
Make Clifton Luxury Views the venue for your engagement party or wedding rehearsal dinner. As one of Clifton's impeccable beachside self catering villas, it's designed to be an entertainer's delight.
This superb beach house has a large entertainment area complete with fireplace, and a dining area with room for 10. It also has a sparkling swimming pool, and a cinema room for close encounters of the nicest kind.
Great for sundowners, dinner parties and movie nights, this 10 person holiday home is a lively match for couples who love to socialise.
For The Beach-Lovers:
Clifton Haven is among the area's most open self catering villas, situated a step away from the sand. Couples staying here will enjoy all the activity of Clifton's Third Beach, while having access to a sublime private retreat.
Clifton HavenSleeps 6 in Clifton | From R 8,000
View Property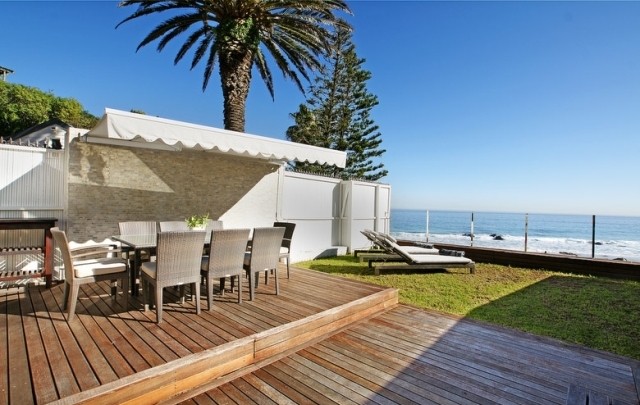 Sun-worshipping lovebirds will be delighted to find that Clifton Haven has an outdoor living area and Jacuzzi, where the beach views can be truly appreciated. You couldn't ask for a better setting to connect with that special someone.
For The Private Couple:
Villa del Onde is around the corner from Camps Bay, in the more secluded Llandudno area. The self catering villas are known for their exclusivity, offering the two of you some much-needed alone time.
This villa is a haven for newlyweds, with plenty of privacy and space to unwind. Choose from one of 3 luxury double bedrooms and settle in amid picturesque sea and mountain views.
At Villa del Onde, you'll wake up to wrap-around views from your room every morning. There are so many blissful ways to spend the day here – take a relaxing dip in the pool, have a picnic in the lush green garden, or enjoy a discreet tanning session on Llandudno beach.
The entertainment area in this holiday rental is a great spot for al-fresco dinners, or sundowners for two.
For The Sophisticated Pair:
12 on Llandudno is an ultra-chic loft with opulent finishing touches, including a 14-metre rim flow pool and a private steam room. It's the ultimate romantic holiday home for the couple who value that extra touch of luxury.
Here, you will enjoy uninterrupted ocean views from the deck or the pool, and spend quality time in one of Cape Town's most desirable self catering villas. It's easy to see what makes the Mother City such a romantic destination.
Stay in The Luxury Villas of Passionate Cape Town
Some of Cape Town's biggest tourist attractions have become popular proposal venues, so if you are looking to ask that magical question, your location could not be better.
Imagine asking underwater, surrounded by sharks like a brave groom-to-be did at the 2 Oceans Aquarium! There are no limits in an area this diverse and inclusive.
With so many opportunities for fun, recreation and romance, it's no wonder love-struck couples from across the globe recognise Cape Town as a fairy-tale getaway destination.
Which of Cape Town's self catering villas and apartments suit you and your sweetheart? Tell us about your ideal match! And find more details on our self-catering accommodation here.