Hout Bay accommodation means affordable luxury in an area that is world famous for views, creative culture and quaint harbour living. Start your holiday in the right Cape Town community.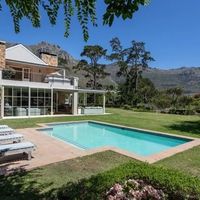 Beautiful 5 bedroom family home situated in a secure estate. This beautiful home in a family security.There is a separate cottage attached to the house with an additional 2 bedroomsIncredible views of the mountains surrounding the property. Spacious home is perfect for relaxing indoors or in the peaceful…
From R 18,000
For bookings & more Hout Bay properties click here
Once prized for its timber, Hout Bay is a local gem on the other side of Table Mountain. A short drive from Cape Town takes you through this creative town, where you will find a wide range of curio shops, art galleries, cafés and gourmet restaurants.
While the accommodation in Hout Bay is fairly limited, it's close to the charming harbour seafront, which regularly attracts tourists from all over the world.
Holiday homes in the area are understated and affordable, with their own unique flora and fauna surroundings – a refreshing beachside culture with boutique stores and markets.
Find your ideal Hout Bay accommodation below by going through our fine collection of properties, and stay in an unassuming area outside of CT that has all the old-world charm of a village, without the bustle and super-luxury of Camps Bay and Clifton.
Your Luxury Hout Bay Holiday
Hout Bay lies in a valley on the Atlantic Seaboard just 20 kilometres from the CBD. It's known for its incredible harbour, and the abundant marine life there. If you enjoy fishing, you'll be able to catch deep sea yellow fin tuna and long fin tuna on your trip.
The beach in Hout Bay is a prominent attraction and every year surfers leave by boat or jet-ski to travel to Dungeons, a reef that is globally known as an extreme surf spot. There, big wave surfers fall in love with the over-sized waves.
Hout Bay accommodation is close to Dungeons, where surfers take on one of the 16 largest big wave spots in the world, and there are regularly sponsored surfing events.
A comfortable holiday in this area means strolling through the small town roads, visiting antique shops and buying knick-knacks and rare art keepsakes that make your vacation memorable.
Hout Bay continues to grow rapidly, and is home to one of the most scenic drives that you can experience anywhere, between Chapman's Peak and Noordhoek.
Luxury Hout Bay accommodation is also more affordable than the traditionally affluent areas closer to the CBD. And that means more money to spend on fishing, shopping and amazing holiday experiences in this popular fishing village!
Finding Your Ideal Hout Bay Holiday Rental
Holiday homes in Hout Bay are modern, spacious and always in-demand. You need to know how to find the vacation rental that will make your holiday an easier, happier experience.
Hout Bay accommodation comes in all forms – villas, cottages, apartments and even private penthouses. Consider the property style that most appeals to you on your visit, and locate the options by using our handy filters or speaking to one of our helpful consultants.
Find the right location! Hout bay holiday homes are spread throughout the village, and many are close to the harbour and beach. A spot near the beach will be more expensive, but great for morning beach walks, while a spot in the quaint town area will be less expensive and will allow you access to the rows of old-world curio shops on offer.
Accommodation in Hout Bay should match your intentions. If you are going to stay in your cosy villa all the time, your facilities for daily living should be aligned with that. If however, you plan on travelling a lot, a smaller apartment would be a better fit.
When you are deciding on the Hout Bay accommodation that will be such an integral part of your next vacation, remember to consider price, functionality, how many people will be staying with you and for how long. These factors all matter – get them right and you'll have an exceptional time.
If you need assistance finding the Hout Bay home of your holiday dreams, contact us and we'll go to work for you, refining your options.
Holiday Homes in Hout Bay: Everything You Need
Many holiday homes in Hout Bay reflect the appeal of the once tiny fishing hamlet, and there is a great mix of space and comfort. Plus it's quieter here than many of the vacation rentals you'll find in busier areas. This is everything you need to know before you select your favourite property rental.
Hout Bay accommodation is ideally suited to families, and because of this the area makes a great spot for family reunions, weekend celebrations and weddings. Some homes have extensive grounds for large families and some have just enough space for a small family.
These vacation properties can also be extremely intimate – and few locations rival the beach views and boat tours that can be taken here. Get to know someone special here, or rekindle your passion on a romantic month away from home.
Because Hout Bay is close to Cape Town but quite apart from it, these homes are great if you have to maintain work-life balance while here in the city. Actors, singers and other celebrities here for tours, shows and filming, love this boutique area.
If you strongly connect with the great outdoors, Hout Bay accommodation offers you and your loved ones a unique experience with the areas flora and fauna. Beach life, scenic drives, woodland, mountainous hikes and picnics in your own rental garden are just part of the fun.
Holidaymakers That Would Benefit from a Hout Bay Stay
Many different types of holidaymakers find Hout Bay a logical choice, thanks to the nature of the area and the 'artsy town' vibe that differs from the Cape Town CBD. Here are the types of people that would benefit the most from the areas original charm.
Creative travellers: Hout Bay accommodation is often privately owned, and many of these rentals have their own specific style as a result. Find beach villas, modern apartments and trendy cottages that will inspire the creative in you.
Surfers: Individuals that want to surf somewhere special, will enjoy Hout Bay. The sea might be cold, but riding the waves is an achievement waiting to be mastered. Every now and then a Red Bull surfing event will attract the best surfers from around the globe.
Families with children: If you want to explore Cape Town from a family perspective, but don't enjoy bustling areas that have less charm – this could be the place for your family. It's close to a huge variety of activities for kids, has an extensive selection of cafés and restaurants, and the kids will never want to leave the beach.
Nature Lovers: Hout Bay is a popular destination for nature lovers, because of the diverse outdoor landscapes that have helped make the area a much-loved sports, hiking and fishing spot.
Get your Hout Bay accommodation before it is all booked out this summer season by inquiring with Capsol on this website. You deserve a chance to see Cape Town like you never have before!