Written by Kerry | 3rd Mar 2017 | Accommodation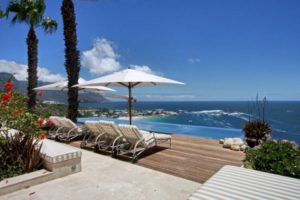 These luxury villas in Cape Town let you feel like a star, without the need for a celebrity-sized budget. Smart travellers know where to find the best deals, enjoying the high life for a lower price.
Take a look at 5 economical Mother City manors for thrifty holidaymakers. These affordable villas are big on luxury, but easy on your wallet.
Luxury Villas To Rent For Less
You don't have to be a wealthy international jetsetter to get the most out of this beautiful city's luxury villas. In Cape Town, there are plenty of attractions for visitors on any budget. This list of 20 local attractions for under R100 proves that a little money can go a long way.
Get together with a group of friends and family members, and share the cost of a roomy vacation home. You'll find a wide choice of luxury villas to rent and enjoy within your means!
Luxury Villas in Cape Town: Top Locations at Great Prices
With a little bit of planning, you can make your holiday funds work for you. Discover the most affordable villas around the Cape, and you'll have more savings left over for dining or sightseeing activities.
For cost-conscious tourists asking "Where can I find luxury villas in Cape Town?" these 5 holiday homes make Cape Town's most exclusive neighbourhoods instantly more accessible.
4 bedrooms, sleeps 8
Price range: R5000 – R8000
Bantry Bay is known as one of Cape Town's most expensive locations, but 40 on De Wet comes with a smaller price tag than you'd expect.
Why is 40 on De Wet one of our favourite affordable luxury villas? In Cape Town, many holidaymakers spend more than they need to, but this family-sized holiday home proves that spending less doesn't mean cutting down on comfort.
The palm-lined beaches of the Atlantic Seaboard are right down the road from 40 on De Wet. Here you can swim, sunbathe and relax to your heart's content, without spending an extra cent.
Sheltered from the Cape wind, with postcard-worthy sea views, this property sits side-by-side with some of the most opulent luxury villas in Cape Town. 40 on De Wet is a 2-level villa with plenty of space and privacy for larger groups.
This villa is 5 minutes' drive from Camps Bay beachfront, where you can enjoy world-class shopping and dining. For a more cost-effective option, stock up on a few prime cuts of meat and take advantage of the BBQ facilities.
4 bedrooms, sleeps 8
Price range: R5000 – R8000
Neighbouring Camps Bay is considered a very chic neighbourhood, and attracts movie stars and business moguls from all over the world. It's home to Poseidon villa, an inexpensive retreat for 8 style-conscious guests.
Poseidon was designed by architect John Jacob, known for his work on a variety of luxury villas in Cape Town and Johannesburg.
This is a sleek contemporary building, designed to make your self-catering holiday experience a smooth one. Spread out in the spacious bedroom and living areas, or dip into the rim-flow pool.
Despite being so reasonably priced, Poseidon is right on Camps Bay beach – a coveted position occupied by a very select few luxury villas in Cape Town. What an indulgent spot to enjoy a glass of champagne and the view from the Jacuzzi!
5 bedrooms, sleeps 10
Price range: R12000 – R45000
Clifton Luxury Views is the kind of place that makes staying in more fun than going out. This ocean-front Clifton manor accommodates 10 guests, so you can settle in with a few of your favourite people and enjoy the ultimate holiday haven.
This home stands head-and-shoulders above other luxury villas in Cape Town and surrounds. Enjoy a poolside party, host a garden soirée, or get the full cinema experience in the media room – all from the comfort of your Clifton villa.
You can also visit any of Clifton's 4 white-hot beaches, and rub shoulders with the local glitterati.
Clifton Luxury Views has an expansive living room complete with a fireplace too, for a sumptuous winter holiday experience.
5 bedrooms, sleeps 8
Price range: R8000 – R12000
Green Point is a popular destination for the young and trendy. Its bustling promenade and chic café culture have earned it the nickname "The Soho of Cape Town".
Joubert Manor has a choice of single and double bedrooms, to comfortably accommodate a mix of guests. You'll find ample living space and entertainment areas both indoors and out, all with a view of the famous Cape Town Stadium in the background.
Here's another useful tip for savvy travellers staying in local luxury villas: in Cape Town, your birthday can become a city-wide celebration, at a great discount! There are a number of special birthday offers around town, including a free cable car ride to the top of Table Mountain.
4 bedrooms, sleeps 6
Price range: R5000 – R8000
With privacy, security, and the benefits of a live-in housekeeper, Bordeaux Villa is one of the most popular pocket-friendly luxury villas in Cape Town.
Bordeaux is a charming country house set among Constantia's world-renowned wine estates. The extensive grounds will give you a taste of estate living, without the hefty price.
Constantia enjoys a reputation as an upmarket suburb in tranquil green surroundings. This is the place to be if you're looking to sit back and sip a glass of red with no interruptions.
Bordeaux Villa is a colonial-style home with lots of space for 6 people. The property includes a huge manicured lawn and swimming pool, braai facilities and a covered outdoor entertainment area. A pool cover can be added on request, to make Bordeaux Villa a child-friendly retreat for your family.
Low-Key Luxury: Villas to Rent on a Budget
The city bowl, the Constantia Winelands or the exclusive Atlantic Seaboard can become your holiday base at a bargain, if you know what to look for. Affordable Cape Town villas are often hidden in the heart of the most costly areas!
Book your place at any of these luxury villas in Cape Town, and you'll be able to make your vacation budget stretch so much further. You'll find plenty of money-saving holiday specials online , in Cape Town's most select suburbs.