Holiday apartments in Cape Town are where you want to stay if tapping into the pulse of urban life is your travel style. Check out our apartment listings and book the holiday you deserve.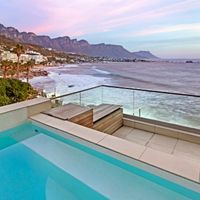 Clifton Views is a pristine three-bedroom apartment located in Clifton offering magnificent panoramic views of the Atlantic Ocean and the 12 Apostles Mountains. The apartment is easily accessed down two short flight of steps where the elevator then takes you directly to the front door of the apartment.…
From R 8,000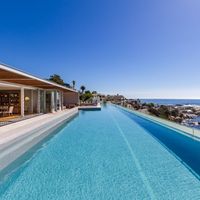 To make the most of the natural light and sea views, one of the walls is entirely glass from floor to ceiling, with doors leading out onto the pool deck. The decor features soft neutral tones, reminiscent of the beach sand, while beautiful local artwork adorns the…
From R 6,000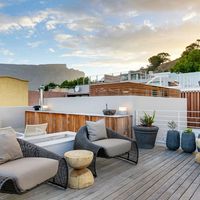 Spacious, 2-bedroom apartment with deck, located in the hub of Greenpoint, with its host of shops, restaurants and bars at your doorstep and the bustling CBD within walking distance.This property is perfect for business travelers or those wanting to be close to the many tourist attractions, the Mother…
From R 4,000
For bookings & more Cape Town properties click here
The glittering neon lights of a faded night sky outlining the base of one of the world's natural wonders – Table Mountain. A morning spent sipping orange juice and champagne on a balcony with both sea and city views. The bustle of cars and people going about their daily business. You can have it all when you choose to stay in luxury Cape Town holiday apartments.
You don't need any excess space and you are travelling light this time. These holiday apartments in Cape Town are equipped with everything you need to enjoy a comfortable, exciting stay in this eclectic town. Find the apartment that speaks to you among our incomparable list of modern properties, all you have to do is start browsing below.
Holidaying in The City of Cape Town
Cape Town is famous for being one of the most laid-back cities in the world. Guests that choose to stay in the city centre do it because they want access to everything the town has to offer, which is quite a lot. Where else can you take a cable car up the mountain for a jaw-dropping hike, and witness the entire city and both converging oceans shining below?
Private holiday apartments in Cape Town are the best way travellers can remain central to cut short their travel times when exploring the area.
You might choose to spend time on one of the most gorgeous beaches you will ever see on day 1, then on day 2 decide to go on a wine tour 20 minutes away. Day 3 might require a craft market afternoon with lunch in the city, and by the time the weekend comes you'll be hitting all the local nightclubs and hotspots that has given CT a 'party city' reputation!
Anything is possible when you stay in a city as diverse and multi-faceted as this one. Renting modern holiday apartments in Cape Town means a luxury lifestyle you can afford with your family, while you strike out of your comfort zone to take in the sights and sounds.
What It's Like to Stay in an Apartment in The City
You will wake up to another hot, sunny day – glad to be in your climate controlled apartment that overlooks neighbouring skyscrapers and makes you feel one with the people of Cape Town. Your apartment is decorated with modern finishes, luxurious and inspiring to witness. Here, you can decide to spend the day inside finishing that work you have to crank out.
If you're on holiday, you could cook yourself breakfast using one of the top-class appliances that come standard in these luxury holiday apartments in Cape Town. Coffee on the balcony will treat you to amazing views where you can decide what to do with your day. Later that night when you return from your revels, the apartment is clean like the day you arrived.
Cape Town holiday apartments allow you to experience what life could be like if your main goal was comfort, convenience and relaxation. You're tired from the day's adventures – so there's no need to cook, just ring the gourmet pizza parlour across the road and surprise your special someone with a late night delivery. The city is yours when apartment living frees up your time and energy.
Saving Time and Conducting Business from the Apartment
Alternatively, if you have come to the city in search of new business opportunities – an apartment can be the right choice for you. People that come to Cape Town on business regularly need to travel for meetings from a central location that is also accessible for colleagues. Private holiday apartments in Cape Town are great for hosting impromptu meetings that require in-depth discussion.
At the same time apartments are stronger choices than hotel rooms, because they give you more space to stretch out and work – which many business people need. You have to setup your workspace, make sure that the internet is working and juggle calls. This can be enormously stressful from a tiny hotel room, with people coming and going all the time.
Renting private holiday apartments in Cape Town limit the amount of interruptions you will have to face during your business trip. Plus, you'll be able to spend time working indoors without feeling suffocated or confined to a tiny space. These apartments act as your base, they are flexible and you can even stay there with other colleagues to make it a happier experience.
Who Would Benefit Most from a City Apartment Stay?
A large variety of travellers and holidaymakers would benefit by choosing a city apartment over other areas and property types. Modern holiday apartments in Cape Town are great for:
Families that want to stay in a home-like environment, instead of in separate rooms. An apartment is large enough to be comfortable and will keep you all together.
Couples that want to get away for a romantic holiday and would prefer luxurious privacy, where they could stay indoors or invite friends over will love a city apartment.
Business people that are coming to the Mother City for a seminar, conference or to meet business partners will appreciate the additional space and the lack of stress.
For the best holiday apartments, Cape Town travellers would do well positioning themselves in the CBD, where everything is within reach.
Discover your favourite modern holiday apartments in Cape Town when you search through our incredible range of CBD properties. You'll instantly find one that resonates with your style!